MESSAGE
Widely distributed in most plants, starch is one of natural ingredients. It is produced in the leaves and green parts of plants by so called "photosynthesis" from water and carbon dioxide by the agency of chlorophyll and the energy of sun. Starch is one of the most safe and clean natural resources and widely being utilized for food, pharmaceutical and various industrial domains. However, use of starch has been somehow limited because of its nature of deterioration and retrogradation. We, at Nippon Starch Chemical Co., Ltd., since its start in 1917, as the global producer of modified starch, has overcome these obstacles and developed modified starch introducing new functions supplementing the drawbacks of natural starch and such upgraded products have been supplied to various fields for more satisfaction to our customers.
Thanks to remarkable progresses in technologies especially in the domains of communication and information, we could get instantaneously all sort of information from every corners of world. Also thanks to progress in preserving technology in foodstuff and improvement in logistic system, anything which is required to get, could be obtained around the clock. We are continuously making every possible efforts in technical innovation and development of new products to meet better and comfortable daily life. This means that it is required our further efforts are reqired to improve and create new ingredients with multifunctional of modified starch to meet tomorrow's demands.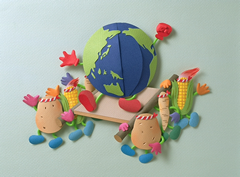 On the other hands, however, it is indispensable and most critical requirement to pay serious attention and consideration toward human health and environment as safety, ecology, cleanliness, and recycling are greatly highlighted. We have to tackle with the serious tasks on health and environment for future life.
We, at Nippon Starch Chemical, have been challenging in every concerned fields to research, develop and produce better products such as :-
*food ingredients containing rich dietary fiber.
*hair-friendly shampoo.
*recyclable and biodegradable adhesives for packaging/
*binding agent for glass fiber which is indispensable to produce sophisticated and continuously upgrading circuit board of computers.
*natural polymer flocculants for safety treatment of waste soil at construction sites and so forth.
There are still many other subjects remained to be settled out and we have to cope with them continuously.We trust that modified starch has an infinite possibility to solve these tasks.
Company Profile
NAME
NIPPON STARCH CHEMICAL CO.,LTD.
HEAD OFFICE
3-29, Mitsuyakita 3-chome, Yodogawa-ku,
Osaka 532- 0032 Japan
CAPITAL
100,000,000yen
ESTABLISHMENT
May 1,1917
BUSINESS
Manufacturer and Distributor of Modified Starches
TOKYO BRANCH
Advantec Bldg., 2-13, Nihonbashihoncho 3-chome,Chuo-ku,
Tokyo 103-0023 Japan
THAILAND PLANT
(JOINT VENTURE)
NIC STARCH PRODUCTS LTD.
COMPANY HISTORY
1917

The company traces its history back to 1917 when it started the production of Modified Starch for the first time in Japan under the brand of "Red Ball" by NIPPON DENPUN SEIZOSYO, a limited partnership company located in northern part of Osaka.

1942

The company was incorporated in the name of NIPPON DENPUN SEIZO CO.,LTD.

1965

Opened Tokyo office.

1967

The name of the company has been changed to NICHIDEN KAGAKU CO.,LTD.

1974

Increased its capital to yen 100 millions

1983

The company name in English has been changed to NIPPON STARCH CHEMICAL CO.,LTD.

1987

Established NIC STARCH PRODUCTS LTD., a joint venture plant in north-eastern Thailand, manufacturing modified starches made from tapioca starch.

2017

100th anniversary of foundation