"Starch would be ideal if it were soluble into this particular solvent" or "Coloured starch would be ideal if it were" or "It would be ideal if a water insoluble film were"… Such endless desires and demands are coming from customers expection,"would be ideal if.." to future world.. We perceive that behind their fantastic desires,there might be big potentialities.
At our R&D institute,based on our accumulated know-how,with a very novel ideas,we are always trying to meet such demands.
Aggressively participating in joint researches organizations,and absorbing latest high technologies,we are continuously making all possible efforts to meet to our customers.

Modified starch products play so important roles as the indispensable ingredients widely in food application and other various applications in different sectors. As various starches have own characteristics, in our development of new application through modifying and/or processing (raw starches), it is imperative to judge if our direction is heading to right way to meeting customers requests. If you are interested in modified starches, please do not hesitate to contact to our R&D institute directly.
E-mail:research@nichidene.com
Cosmetics base material
NATURALNISK DP
INCI Code:TEA-Dextrin Octenylsuccinate
・Less irritant and skin friendly sugar based surfactant.
(In the albumin denaturation test, the higher native rate, the less irritancy.)
・Gives smooth touch and moist feeling of hair with a small amount of NATURALNISKDP.
・Antiseptic-free.
Application:Shampoo, Conditioner, Facial soap etc.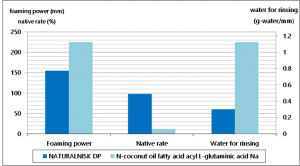 NYUKA W
INCI Code:Sodium Starch Octenylsuccinate
・Emulsifying starch.
・Homogenized starch paste and oil forms a stable O/W emulsion.
・When added to facial soap, it gives better elasticity and dense-feeling to foam property.
Application:Emulsion stabilizer, Thickener, Foam quality modifier etc.
OCTIE
INCI Code:Aluminum Starch Octenylsuccinate
・Fine powder in 5~20μm. (corn starch origin)
・Exhibit water repellency due to its hydrophobic group.
・Evenly dispersing into ethanol, liquid paraffin, propylene glycol etc.
・Also evenly dispersing in water by adding surfactant.
・Particles are swelling and gelatinizing by heating more than 60℃ in water.
・By adding OCTIE to oily materials, it restrains sticky touch and gives dry feeling.
・No whitish mark remains on skin.
Application:Foundation, Cream, Ointment, Milky lotion, Face lotion, Face powder,Talcum powder etc.
Corn starch
OCTIE
Talc
Shape
Polygonal
(compounded particles)
Polygonal
(single particle)
Flake
SEM image
(×1500)
Average
particle diameter
(in EtOH)
21.9μm
14.9μm
9.0μm
Particle size distribution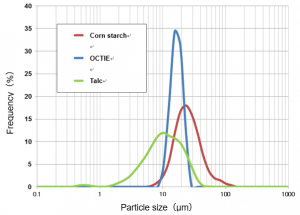 EXCEL FM-004
INCI Code:Hydroxypropyl Hydrolyzed Starch Hydroxypropyltrimonium Chloride
With phenoxyethanol(1.0%)and citrate(0.5%)
・Sugar-based polymer derived from hydroxypropyl starch by enzyme-hydrolyzation and quaternary cationization.
Enables to finish the hair surface more smoothly compared to cationized guar gum or polyquaternium-10.
Application:Shampoo, Conditioner etc.
Safety evaluation test

Acute dermal irritation test: Non-irritating substance
Continuous dermal irritation test: Non-irritating substance (57 out of 57 people)
Eye irritation test: Non-irritating substance
Skin sensitization test : Negative
Human patch test : Negative (42 out of 42 people, 24hr)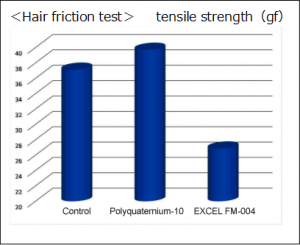 CYCLO NP-7
INCI Code:Hydroxypropyl Cyclodextrin
・β-CD has the lowest solubility among CD. CYCLO NP-7 is β-CD designed to have the excellent solubility by hydroxypropylation.
・By inclusion of perfume or pigment into the ring structure, it exerts the effect of stabilizing perfume or pigment, and the deodorizing effect.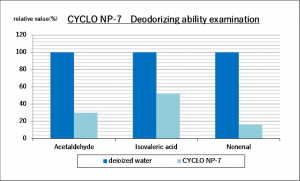 Dietary Fiber (Resistante Starch : RS)
Increasing lifestyle diseases in recent years, non-calorie and low calorie foods are attracting a great deal of attention. Since it came to clear that there was a part of low digestibility in some starches. Such portion can be increased by processing starches. In this category, there are dextrin group, amylose group, indigestive starch, alternative fat starch (low calorie food) and so forth. We have put on sale our "FIBOSE".